Genuine, hand-knotted silk rugs made of natural silk are like works of art. They are an absolute insider tip for design lovers and people with special demands on beautiful interior design. Modern shapes & colors, as well as structures made of fine wool-silk mix or pure natural silk characterize these rugs. Thus, the place of action of each silk rug becomes a place of well-being and enjoyment.
Content overview
To go directly to a specific area, please click on the respective link.
1. Origin & Knotting tradition
Silk rugs have a special history of origin. Ancient royal palaces, paintings and traditional symbolism are the basis of these rug works, whose origin can be found in India. Today, these rugs are knotted by talented artisans. Each rug is unique and therefore a unique work of art.
The knotters tie every single knot by hand. Between four to twelve months of handwork can go into one rug. Wool and silk are dyed with colors that are strictly controlled. It is very important to us to offer our customers only the best quality. Therefore, we work closely with our manufacturers and check the quality of our rugs ourselves on site.
Rugs, like from a royal palace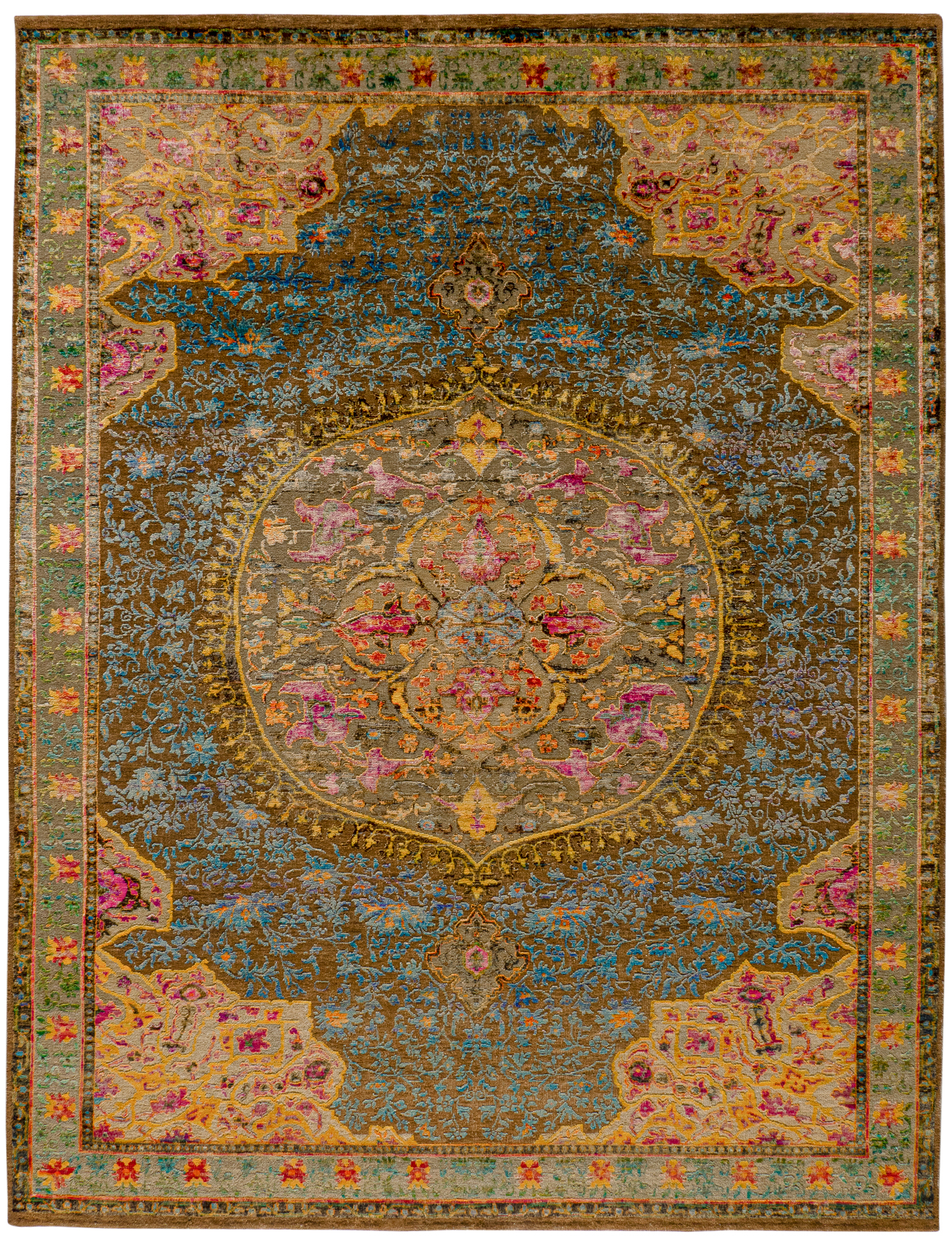 Design Rug Palace Garden
5'410 CHF
Shop this rug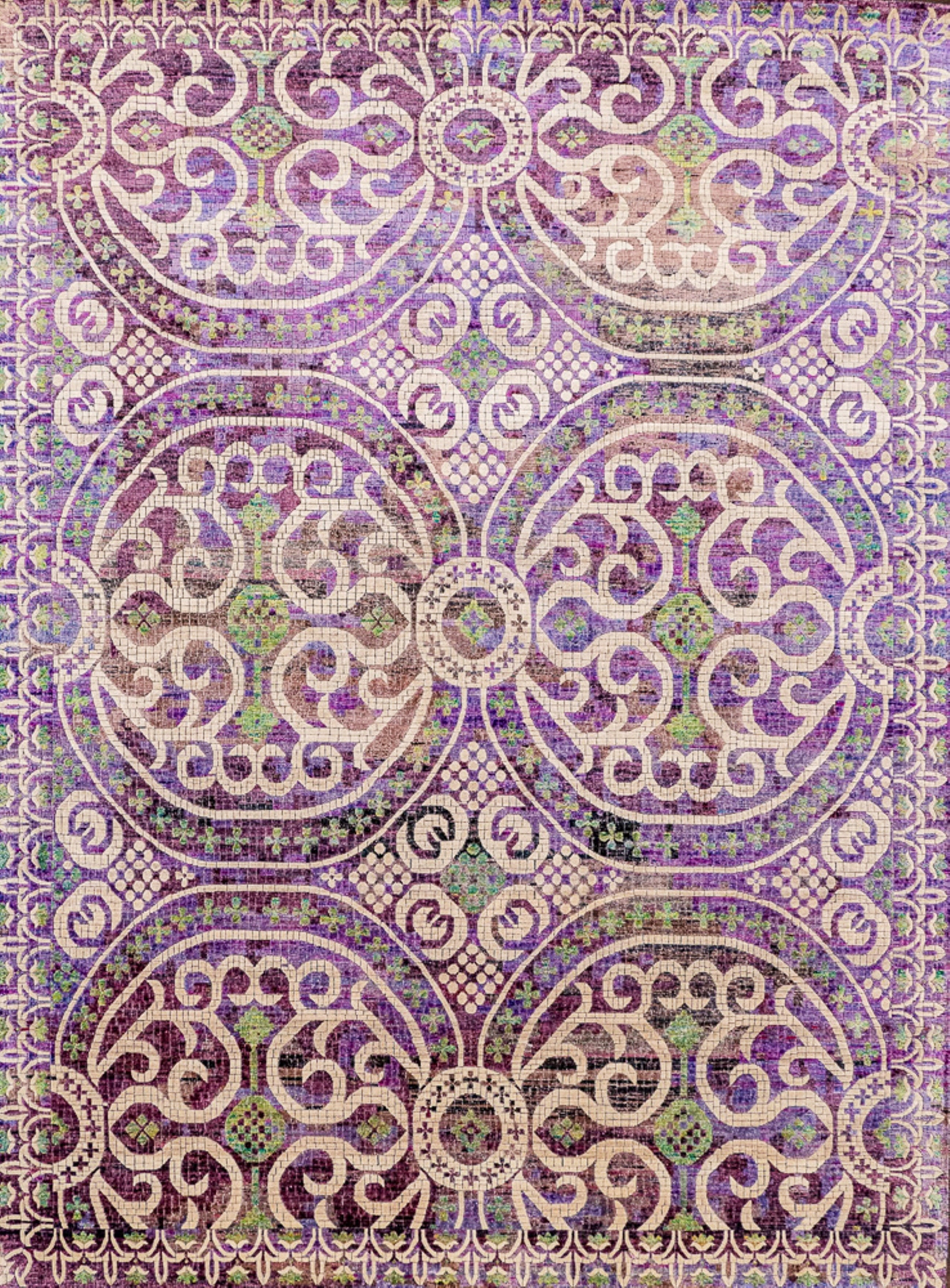 Silk Rug Violet Mosaic
5'390 CHF
Shop this rug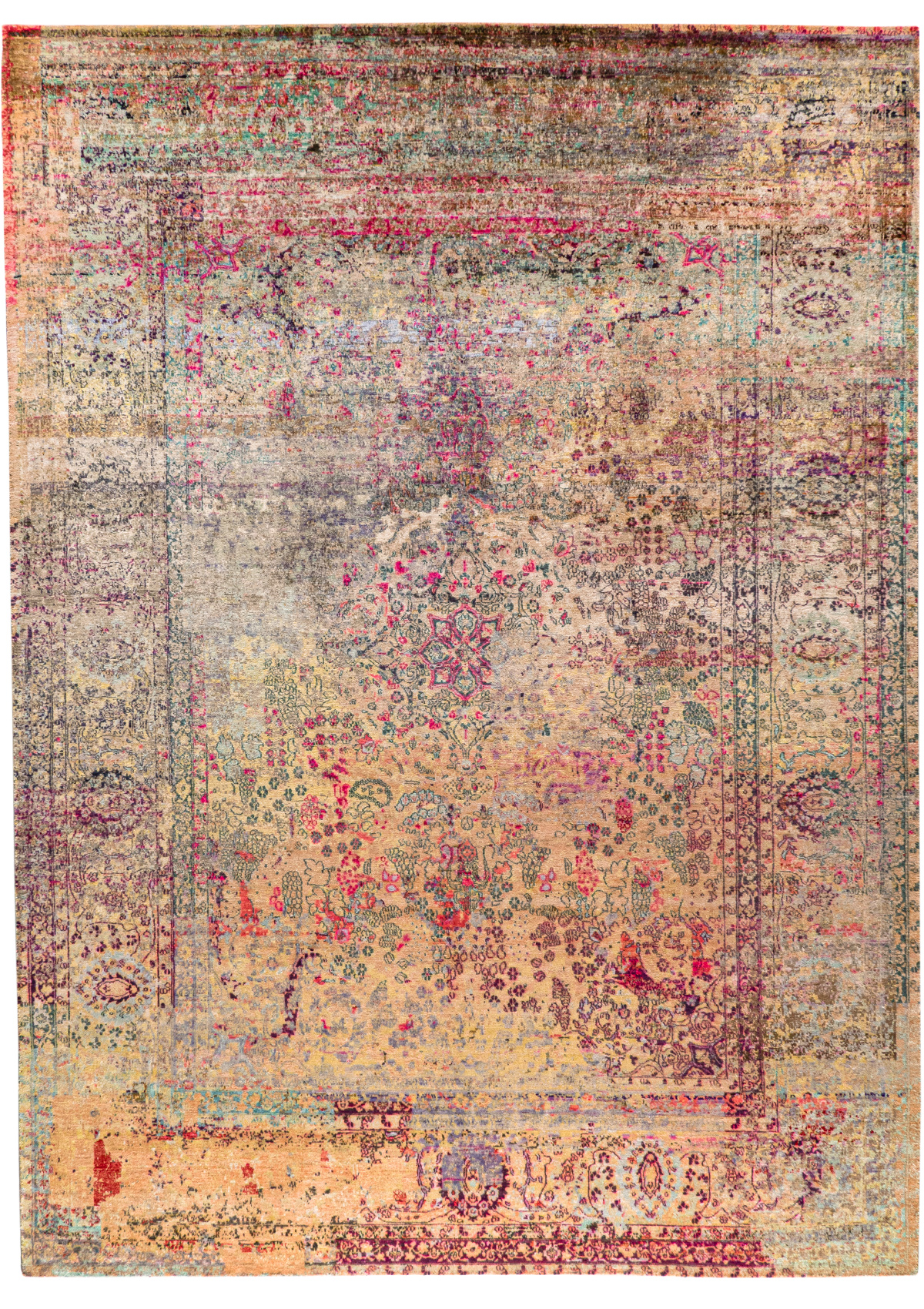 Silk Rug Palace Garden
19'460 CHF
Shop this rug
2. Heirlooms of tomorrow
A modern silk rug is sustainable, ages beautifully and is therefore a true heirloom of tomorrow. These are rugs for life, which may be used and at the same time give pleasure every day. Not only the longevity, but also the materials used, virgin wool and natural silk, make these unique rugs sustainable. The colorful natural silk used primarily for these rugs is the only textile continuous fiber found in nature. Natural silk is biodegradable and therefore sustainable. The high-quality and exclusive rugs are knotted entirely from natural silk. Only specially trained master knotters still master this art today. We maintain long-standing contacts with these special manufactories, where we gather the most beautiful rugs every year.
Real heirlooms of tomorrow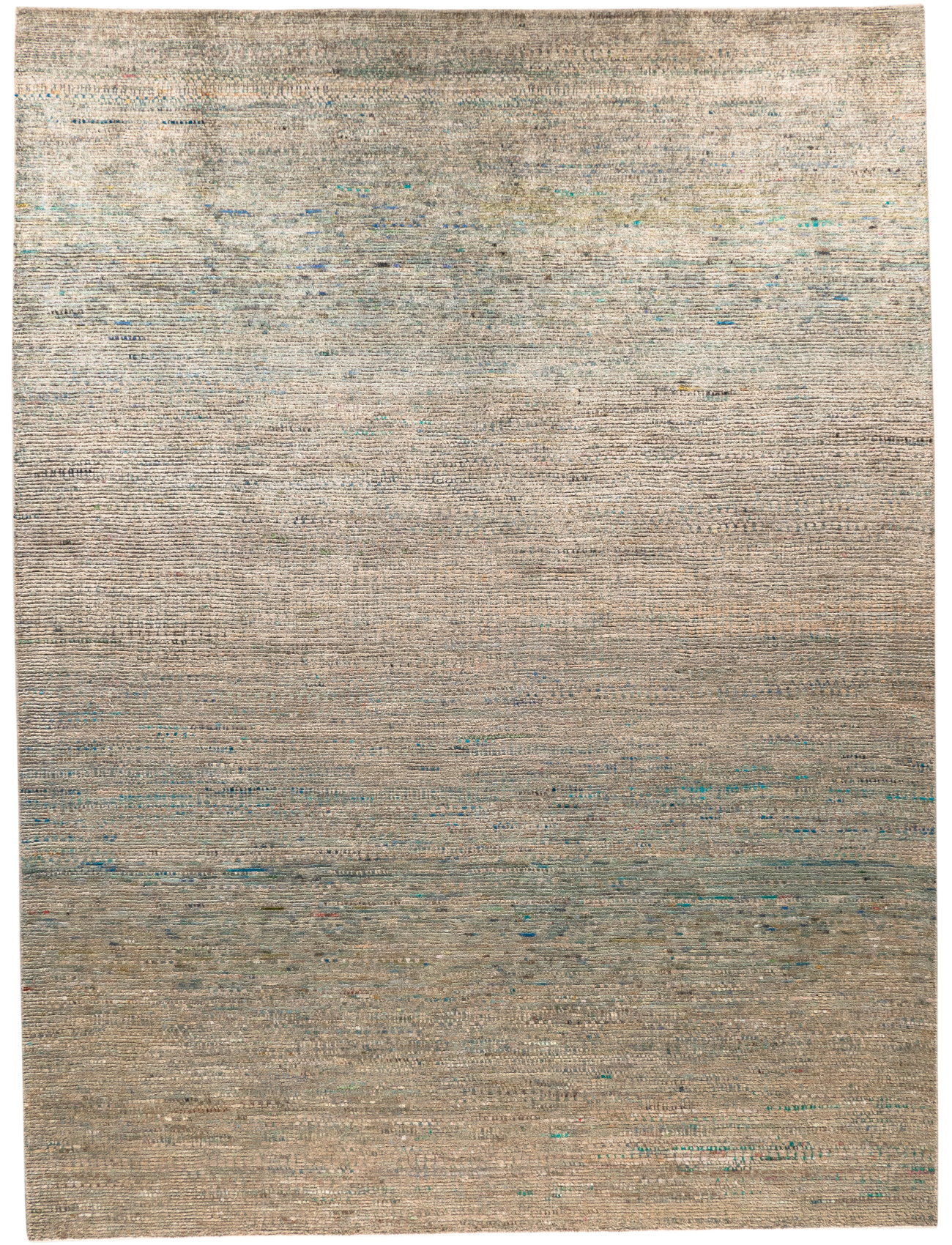 Silk Rug Sea Sound
3'120 CHF
Shop this rug
Silk Rug Art
5'390 CHF
Shop this rug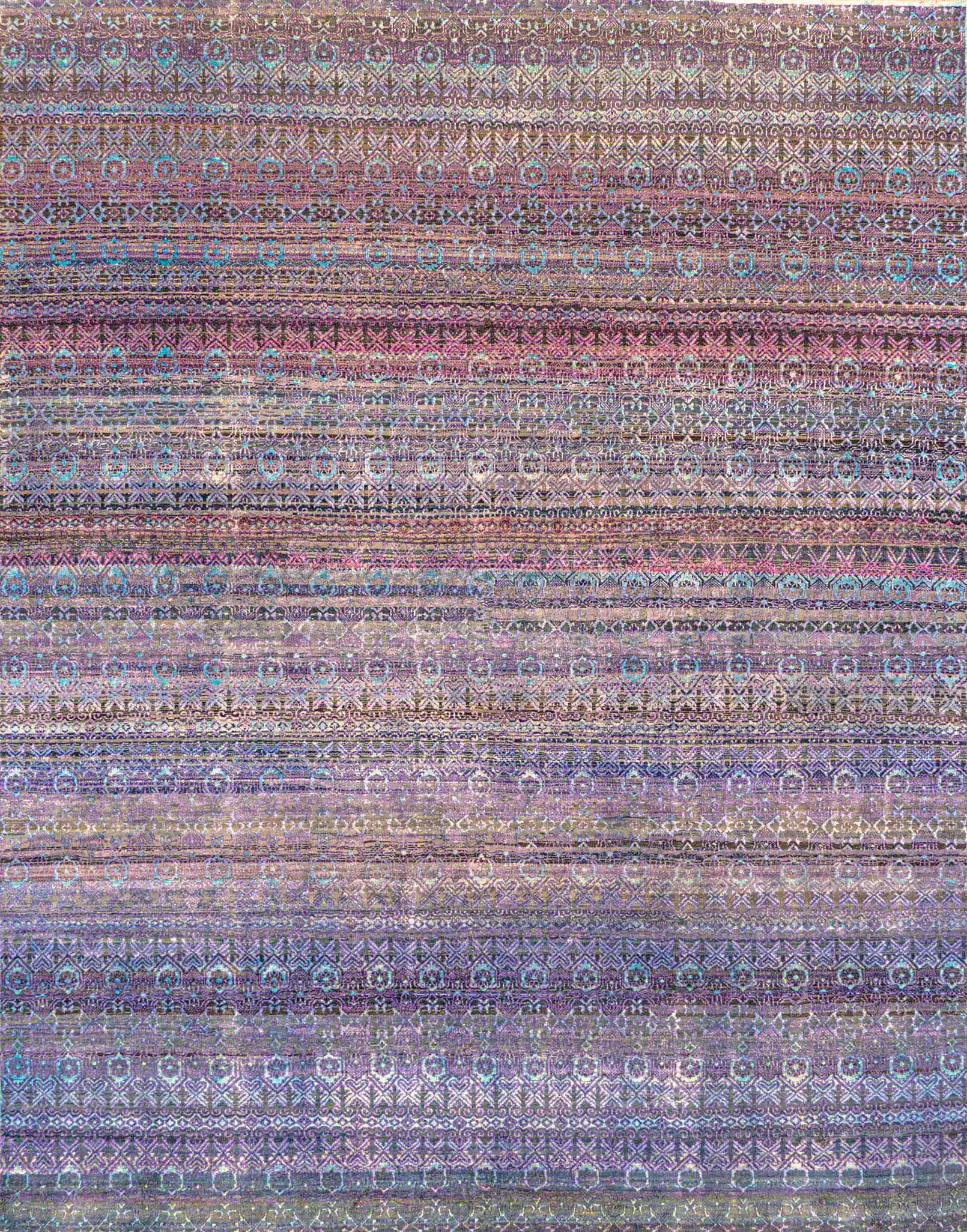 Silk Rug Thousand and One Nights
15'300 CHF
Shop this rug
3. Mentality and Indian culture
India is a diverse country. Different cultures, religions and languages live together peacefully in one country. In India, a lot of importance is attached to traditions that date back several thousand years. This includes the most important festivals "Diwali" and "Holi".
"Diwali" is one of the most popular and well-known festivals in India. The festival of lights, which originates from the Hindu tradition, is a particularly spiritual celebration. Cities are covered with thousands of lights and people celebrate with families and friends.
Also known worldwide is the famous Holi festival, the festival of colors. The end of winter is celebrated by scattering colored powder and water. People celebrate life and rejoice in the many bright colors.
4. Saris - Indian cultural clothing
"Saris" are the traditional dresses of Indian women. They are colorful, cheerful, made of silk and simply beautiful. Part of the modern silk rugs are made from recycled saris, more precisely from the silk of the dresses. The cheerful rugs are therefore not only sustainably produced, but reflect the joie de vivre and tradition of the people of India. Depending on the incidence of light and the time of day, the silk glows in bright colors and so the rugs look like works of art on the floor and are often used by interior experts as modern design objects in the room.