JAN KATH
"You can be cool while still keeping your feet warm!"
Jan Kath (born 1972) opens up a completely new view of the rug with his modern designs. Without fear of contact, the Bochum-based designer combines classic elements of the Oriental rug with contemporary, minimalist design.
Unique & style defining
He deliberately breaks with visual habits and throws strict design rules overboard. In this way, he brings an entire generation that once rolled up grandmother's Persian rugs and banned them from living rooms "back to the rug." "Nobody really feels comfortable in clinically styled apartments, with highly polished concrete floors," explains Kath. "Our rugs are an organic icing on the cake, islands of well-being that have a healing effect in cool interiors without destroying the style."
Jan Kath is absolutely influential in style with his interpretation of the modern rug. Today he is one of the most important international rug designers. His designs have won many awards (Red Dot, Carpet Design Award, etc.) and the works are repeatedly shown in the context of art and design in museums (including the Museum of Applied Art Frankfurt am Main, Beijing International Design Triennial, Art Museum Riga Bourse, Museum of Design Zurich).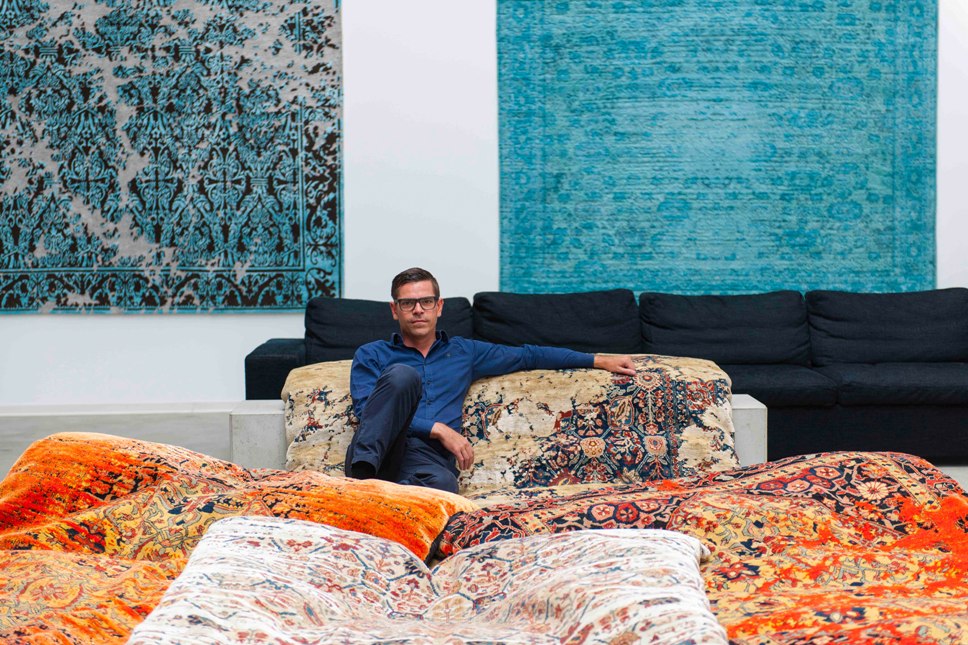 Kath is self-taught. The matrix for his innovative designs is formed by a deep, emotionally rooted relationship with rugs: Jan Kath comes from a third-generation family of rug dealers with branches in the Ruhr region and in Berlin. As a young boy, he visited manufactories in Iran and Nepal with his father Martin Kath. These experiences sharpened his eye and awakened his basic understanding of color combinations and proportions. Nevertheless, Jan Kath never wanted to follow in his parents' footsteps.
To find his own way, he traveled through Asia and the Orient at the age of 20 and landed more or less by chance in Nepal during his road trip. There, family friends asked him to step in as a quality controller in their rug production. The connection to the rug theme was re-established. Later Jan Kath took over the production and began to produce his own designs.
Inspired by numerous journeys through vibrant metropolises such as Paris, Istanbul, New York, Tokyo, Beirut, Sydney and not least by his home, the Ruhr region with its archaic industrial culture, Jan Kath quickly developed his unmistakable signature. While the appeal of the flawed, erosion and transformation plays a central role in his creations, Kath is nevertheless "uncompromisingly conservative" when it comes to quality.
(Source:www.jan-kath.de)